"The two most important days in our life are the day we are born… and the day we discover why."      -Mark Twain
The purpose of the Strategic Living seminars is to facilitate the development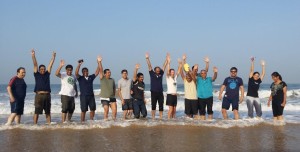 of professional organisations, teams and individuals capable of functioning at optimum efficiency, joyfully and with minimum stress, while maintaining a harmonious life balance.
It is not necessary to have any martial experience whatsoever to be able to benefit from the Strategic Living seminars. Thousands of people from backgrounds as diverse as the upper echelons of the corporate world, elite level sport, teaching, public & community service have participated & benefited.
Learn some of the underlying operating principles that are used instinctively by high achievers every day.
The Strategic Living workshops are based on the values and activities of Budo (Martial Arts & Ways). This unique development path entails structured disciplines and tools that provide an opportunity for the individual to meaningfully transform information into knowledge, then understanding and finally to wisdom in action.
David Dangerfield Sensei combines genuine martial and corporate credentials. His martial qualifications include 6th Dan Aikido & Shomokuroku Shinto Muso Ryu – one of Japan's most respected Koryu systems. He has taught in Japan, Europe, the Middle East, Malaysia, India and Indonesia as well as all around Australia.
He is the Founder and CEO of the Compass Institute – a $2.5m per annum registered Charity employing over forty specialist staff providing education, training and vocational pathways to people with disabilities throughout six centres in Australia. Compass has also developed seven social enterprises providing supported employment opportunities for the disabled.
"Capitalism is the perennial gale of creative destruction."

Joseph Schumpeter
At its heart, Strategic Living is an opportunity to experience ourselves and our world in a way in which we rarely do… a way in which we become the agents of wise action in all we say and do… where we become our destiny… where we place our feet firmly on the path of a well-lived life.
To be a truly great leader you must first be a truly great person
Perspectives…
David Dangerfield Sensei
Strategic Living is the culmination of a lifetime of profound study and practice where the worlds of corporate entrepreneurship, ancient martial arts & ways and pure, rich life skills intersect. It exists in the place where past and future collide.
The seminars bring together information of great importance… but offer so much more than information.
They draw on the knowledge and understanding of masters of the Art of Living… but offer so much more than knowledge and understanding.
At its heart, Strategic Living is an opportunity to experience ourselves and our world in a way in which we rarely do.
A place where we become the agents of wise action in all we say and do… where we become our destiny… where we place our feet firmly on the path of a well-lived life.
Sumeet
It is putting the potential of life to its best optimal use, as Sensei mentioned on many occasions – "That's not breathing… this is breathing!"; "That's not walking… this is walking!"; "That's not seeing… this is seeing!" Likewise the principle of Mutualism which I see as very useful for business and communities to survive & thrive. The story of the two tigers & mouse did make me nervous for not being able to spot the strawberries while worrying about the tigers and mouse – which questioned my awareness. Putting all together to generate the reality of choice, Sensei did mention we pay the price for everything – that is we make choices and pay the price. To me it's not coincidental – it is a matter of strategic choice for the reality we want to see coming true. This is strategic living.
Shobitha
To be truly good at anything, you have first to be a good person.  What defines a "good" person?  One who knows what is the right thing to do, and does it. To do the right thing, our body, mind and spirit has to be aligned. Strategic Living is a life where the practice of aligning the body, mind and spirit helps one reach way beyond what would be considered possible.  It is when we live each moment with awareness that we can actualise our potential, with the least effort.  Such a life reduces stress and helps one live in balance, leveraging what is there, to do what is to be done.  Strategic Living is a life where one is not blown by the winds of fate, but where one holds the rudder, carefully steering the ship towards one's destination, with absolute calm, through rough seas, hurricanes, enjoying the freedom, loving the breeze on one's face, and focusing on the beauty of the sea and the feeling of liberation within, co-existing with the other passengers with love and compassion.
Kalyan
The feeling of liberation at the end of the workshop is like finding yourself in the clearing after running lost in the woods a very long time… tantalisingly close to freedom but never close enough, till you suddenly take that one step you ought to have taken a long time back.
"I am not teaching you anything… I am only reminding you what you already know". In hindsight, this has been the most powerful statement for me during all of the strategic living workshops. This puts us firmly in the realm of what we know, inspires us to think about what is possible with what we know, and prepares us to learn two things absolutely essential for strategic living – How to know, and How to use what is known.
Living strategically is a constant practice of two things:
Honing our senses, intelligence and intuition to refine and enhance our awareness.
Using this enhanced awareness creatively to generate the future we choose
It is about practicing synchrony between the body, mind and the spirit, and consistency between thought, word and deed, being completely present to each passing moment, assimilating from it and resonating with it in harmony.
In that sense, Strategic Living isn't a pursuit of becoming something… It is a persistent practice of being who we ought to be, of enriching and optimizing what's within.
Click here to read a sample of the Strategic Living Course Outline