The Compass Institute is a Sunshine Coast based charity dedicated to provi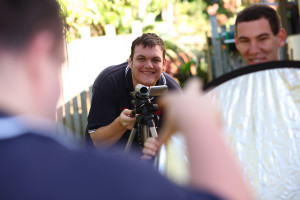 ding real futures for young Queenslanders with a disability. In 2003 Compass followed its dream to develop a truly leading edge service for people with an intellectual and/or physical disability. The response from the community to a developmental and transition focused service has been overwhelming and the results for the young people accessing the service have been extraordinary.
Initially, Compass provided unique Alternative Education programmes to youth at risk in local secondary and primary schools during the day while running traditional martial arts classes in Aikido to children, youth and adults five nights a week and Saturday mornings.
The schedule was extremely taxing for the small number of poorly paid staff and volunteers however, without one cent of government funding, over 7,000 school students accessed and benefited from an evergrowing range of specialist programmes. To this day our community reaps the benefit of that very considerable intervention.
In 2000 the Institute received funding from the Department of Sport & Recreation to conduct Strategic Planning Workshops and construct a strategic plan to guide our growth. One of the key recommendations was the development of a Disability Service to support young people in their transition from secondary school to life in their community.
Our CEO had studied and trained in New Zealand through the 1980′s and had experienced a service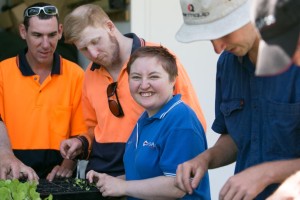 model that was both developmental and transitional. Compass uniquely weaved this model with a core of traditional martial art philosophy and set about creating innovative policies and procedures where quality of service is deeply embedded in the service at every level.
Compass' Post-school service commenced in 2003 with 3 trainees and one staff member. The service has experienced approximately 90% per annum growth. In 2003 the service was awarded Outstanding Service Provider and was runner up in Innovative Programmes. The same year Compass also was chosen by Backyard Blitz to receive a garden makeover as a result of our strong community focus. In 2005 four trainees jointly won the Junior Citizen of the Year award at Australia Day celebrations, again because of the contribution our service makes to the community. Currently Compass has over 90 trainees and over 40 staff across six centres in Queensland; Palmwoods, Hunchy, Caloundra, Caboolture, Gympie and Gladstone, as well as five micro-businesses based on the social enterprise model which provides flexible employment to over 30 people with disabilities. These include a 20 acre Farm, Harvest Kitchen, Wabi Sabi retail shop and Lawn and Garden community services.
compass 5 minute video from Compass Institute Inc. on Vimeo.